BODY & FACE REMODELING
ANTI CELLULITE I-III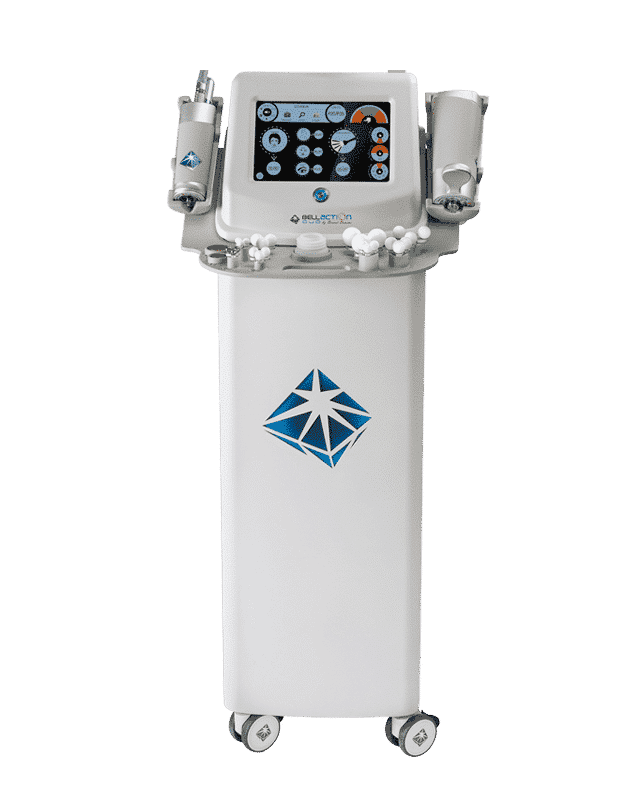 THE
PATENTED WORLD FIRSTNESS

AGAINST CELLULITE I-III, SKIN & TISSUE PROBLEMS
Every person has phases in his life in which he is dissatisfied with his appearance. Especially problem areas such as cellulite, uneven skin and sagging skin cause physical discomfort. If these phenomena then turn out to be an everyday companion, this can become a considerable burden for those affected and lead to a reduction in quality of life. The creams or ointments commonly available on the market usually help with such aesthetic problems only in the short term. Even the methods used so far have not shown any lasting effect. However, the aesthetic company SAPPHIRE from Spain has created an effective solution: The BELLACTION DUO.
NATURAL

BOTOX & PEELING EFFECT
The BELLACTION DUO is a non-invasive and specially developed treatment method against cellulite, which is absolutely gentle on skin and tissue. The cellulite device reduces cellulite I-III, skin sagging, inflammation and also fluid retention in the tissue. The BELLACTION method works with a unique, deep-acting combination of infrared heat, CO2 cooling, vibration and rotation. 
Compared to many other market systems, the BELLACTION DUO unleashes its effects completely without the use of electrodes and deep currents, and without traction of the dermis and epidermis, but penetrates directly to the essential deep tissue layers. The skin surface is completely spared. The effectiveness of the BELLACTION application has been tested over the long term and has become the most natural method in body & face remodeling.
The BELLACTION Duo is thus the technological successor of the meanwhile legally restricted cryolipolysis devices & HIFU devices by combining both modes of action.
Interested in a favorable equipment leasing?
Also for start-ups & without down payment!
BELLACTION DUO

APPLICATORS
*these are real customer photos and results
Interested in a non-binding consultation?
...Then we look forward to your call!
SPECIALS
SAPPHIRE

BELLACTION DUO
Care products
Interested in a favorable equipment leasing?
Also for start-ups & without down payment!
Interesting facts about
BELLACTION DUO
Get prices & information about BELLACTION DUO
Simply fill out the following form and receive further information about the BELLACTION DUO and our company without obligation and free of charge by mail & e-mail. We will deal with your request as soon as possible. Fields marked with * are mandatory. Please always check your Junk-/Spam-E-Mail folder, where our Info-Mail might have accidentally arrived.